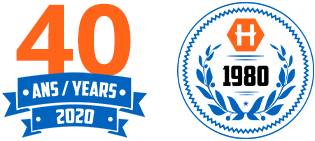 Increase your efficiency with Hebdraulique
While our products fulfil a large range of hydraulic applications (including agriculture, petrochemical, transportation, forestry and more), we are convinced that our experience and expertise will permit us to offer much more than a customer-supplier relationship. We aim to create long-term partnerships with our customers by adapting our approach to the specific needs and particular challenges of their business.
Values and mission statement
Hebdraulique's mission is to offer solutions that meet and exceed our customers' expectations with quality products and peerless service. To accomplish this mission, we negotiate with our suppliers in order to maintain the best value-for-money on our products.
Moreover, the company is driven to perform and improve continually, in order to grow its network of resellers and reinforce its presence and position in the hydraulics field.
Resolutely forward-thinking, Hebdraulique aspires to expand its range of products and services while adapting to the needs of the market and the evolution of its customers' needs. Our plans for growth will consolidate our business offering in Canada and beyond.
The explanation for Hebdraulique's success over the past 40 years and more is a business philosophy based foremostly on zealous service, product quality, and customer satisfaction. Fast and efficient service: that's our goal all day, every day!